Darty scores 200 wins: what's next?
This story was originally published in the first edition of The Lion's Tale (October 7th, 2021).
On a warm August night, the student section and parents start going wild when the announcer informs the crowd that Athletic Director and Head Coach of the Oviedo Volleyball team, Jen Darty, won her 200th game with Oviedo High School.
Darty, going into her 11th season, has won multiple awards in her life as Head coach and as an alumni including 2019 National High School Coaches Association National Girls Volleyball Coach of the Year; 2016, 2017, 2018 Florida Athletic Coaches Association Class 9A District 9 Girls Volleyball Coach of the year; 2014, 2017, 2018, 2019 Seminole County Girls Volleyball Player of the Year, and 2014 & 2018 Orlando Sentinel player of the year.
Not only has Darty won these as a head coach at Oviedo High School (OHS) but she has also won multiple awards as a player of OHS. She served her time as a student-athlete from 05'-08'.
"Being an alumni brings an extreme amount of pride to be able to give back and serve the program in the capacity of a head coach right now," said Darty. "But the kids I have make it very, very easy to want to be back and take the same amount of pride in the program, as I did when I was a student here."
Going off of what was stated above, student-athletes at Oviedo High School are given high expectations from the coaches including a certain GPA, maintaining good grades, and staying up to date on homework assignments. Darty understands this
being a student athlete once before.
"The bar is high for an Oviedo volleyball player and I set the standard and the expectation level, incredibly high, because we've got a bunch of great great kids," Darty said. "We have great student athletes to where, we're lucky that they have high goals for themselves, but the standard is always gonna be high for an Oviedo volleyball player."
Darty is always looking to improve herself through coaches and her players. " Constantly seeking growth.. [by going to] coaching clinics, talking with other coaches. I learn from my players every single day. I definitely credit my college coach at the College
of Charleston, Jason Kepner, with a lot of the things that I do today, and just kind of who I am today." Darty said.
"The goal is always high," Darty said. What does that mean? What's next for the program after this accomplishment? To continue to produce student athletes that set an example on campus that, you know, accomplish every goal that they want to accomplish, whether that is being a college volleyball player, but you know, just being a productive member of society. One day, you know, if they want to go into coaching," Darty said. "I think that they're going to make incredible coaches because they've been a part of something that is, you know, competing at a high level and sets a challenging standard for everybody around them."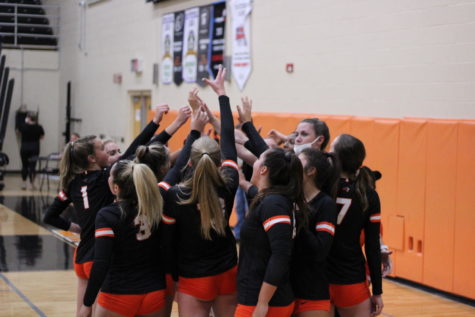 Donate to Oviedo Journalism
Your donation will support the student journalists of Oviedo High School. Your contribution will allow us to purchase equipment and cover our annual website hosting costs.