Powder Puff game ends in dramatic junior win
This story was published simultaneously in the first edition of The Lion's Tale (Sept. 18, 2018).
The junior and senior classes faced off at the annual Powder Puff flag football game on the evening of Friday, Sept. 14. The game consisted of two 25-minute halves, and in the absence of the usual kickoff, possessions began at the 30 yard-line after a score and at the beginning of each half. Each first down was 20 yards.
After the pregame introductions of the players and cheerleaders had concluded, it was time for the action on the gridiron to get underway. While the seniors had control in their first possession, it was the junior class that gained some early momentum with an interception by Megan Campbell near the 50 yard line.
The juniors attacked with the ground game on their first possession, and were able to pull off a few solid gains on rushes by players such as Natalie Livingstone. They ultimately failed to convert the opportunity into any points, and turned the ball over on downs after a few plays. Neither team could get much going on offense in the ensuing possessions, and traded punts for the majority of the first half.
There was an entertaining halftime show where the cheerleaders performed, much to the delight of the crowd, a routine to songs such as "Milkshake" and "Fancy." To begin the second half, both teams came out looking to secure the lead and establish themselves as the superior class through dominance on the field.
Despite strong efforts from players such as Emma Warrner and Liz Leblanc on offense for the juniors, and Erica Taylor and Morgan Gunter leading the seniors on offense and defense respectively, the second half mostly followed the pattern of the first. Neither team could put together a scoring drive and the game remained deadlocked at zero throughout the half. The decided in overtime. The overtime followed "Kansas City"-style rules, in which each team has a chance to score starting at their opponent's ten yard-line.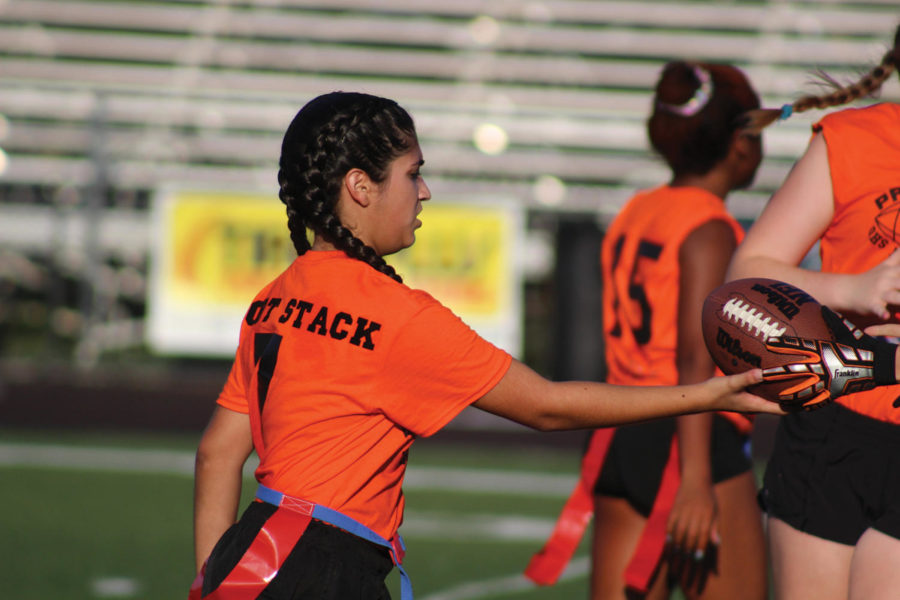 The juniors began the extra period with the ball at the seniors' ten yard-line, with one set of downs to score. They quickly scored the first points of the game on a touchdown pass from quarterback Emma Warrner to Liz Leblanc, but were unsuccessful on their one-point conversion attempt.
Per overtime rules, the seniors then got the ball at the juniors' ten yard-line and also had one set of downs to try to tie or win the game. The seniors failed to get into the endzone on this possession, the last play of the game being  a rush that was stopped by the junior defense just five yards from the goal line. This secured bragging rights and the 6-0 victory for the juniors, and dropped the class of 2019 to 0-2 in Powder Puff games.