Senior night for girls' volleyball shows team's dominance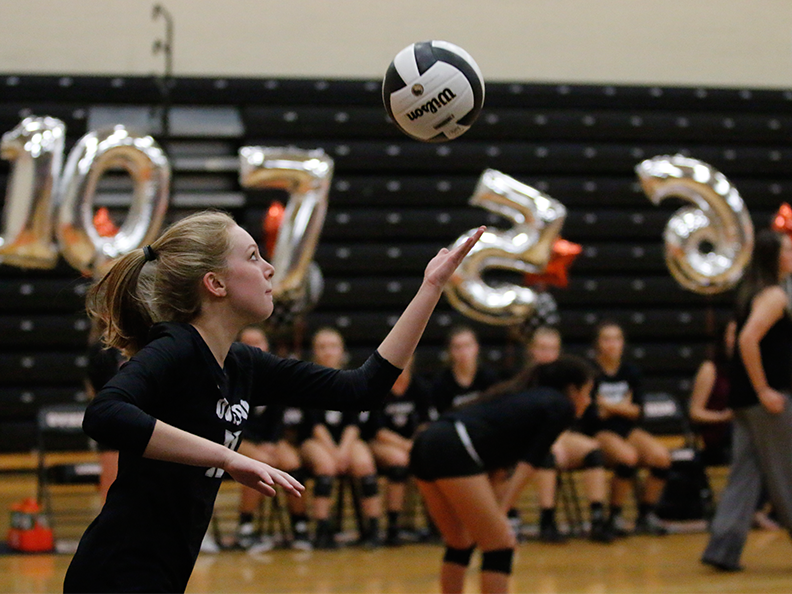 WEB EXCLUSIVE
Tiki torches and hula skirts invaded the student section on senior night for the girls' volleyball team. The luau theme turned out to be very fitting, as the Lady Lions breezed by Winter Springs, sweeping the Bears in three sets: 25-18, 25-16, and 25-22.
The team was led by its seniors: Sami Ross with 10 digs, Sydney Utzig with 3 kills, Ally Kissenberth with 5 blocks and Brianna Botlick with 2 kills. Every attempt at a kill or block by a senior was met with an eruption of applause and cheering from the crowd on the Oct. 3 match.
"It was something that I've been looking forward to since the sixth grade," Kissenberth said. "It didn't really seem like it was happening, since we've seen so many past seniors have their senior night. It felt like a normal game, but it got emotional once they started recognizing us."
In their previous matchup at Winter Springs, Oviedo escaped with a narrow victory, three sets to two. This time, the Lions were more prepared and motivated to win, and it showed.
"Our starting lineup was different," Ross said. "[Our previous game against] Winter Springs was our closest game this season, so we really wanted to come out with a win on senior night and on our home court."
Kissenberth stated that the team's mindset changed between the previous matchup and Tuesday night's game.
"When we played them a few weeks ago, we thought we already had the game [won] and didn't have to work for it," Kissenberth said. "Last night, we realized we have to push from beginning to end and not let them have anything."
The Lady Lions improved to 16-2 with the win, an important one for the team, especially the seniors.
"It meant playing one last time with all my friends and fellow seniors in the home gym," Ross said. "One last win."