Inaugural Career Day connects students to professionals
WEB EXCLUSIVE
Students in business attire filed into the RWL gymnasium, ready to listen to local professionals. Oviedo High School's first annual Career Day kicked off at 9:15 a.m. on Feb. 8.
The new event was created to fulfill a curriculum requirement.
"It was a replacement for the senior project for the standard-level students, so we are using a career portion to help meet the standards for the class," said English IV honors teacher Kati Hansen.
The career day also intended to help guide students' future career goals.
"We wanted to expose the students to different types of careers they may not have thought about, in order to open and broaden their minds for future career planning," Hansen said.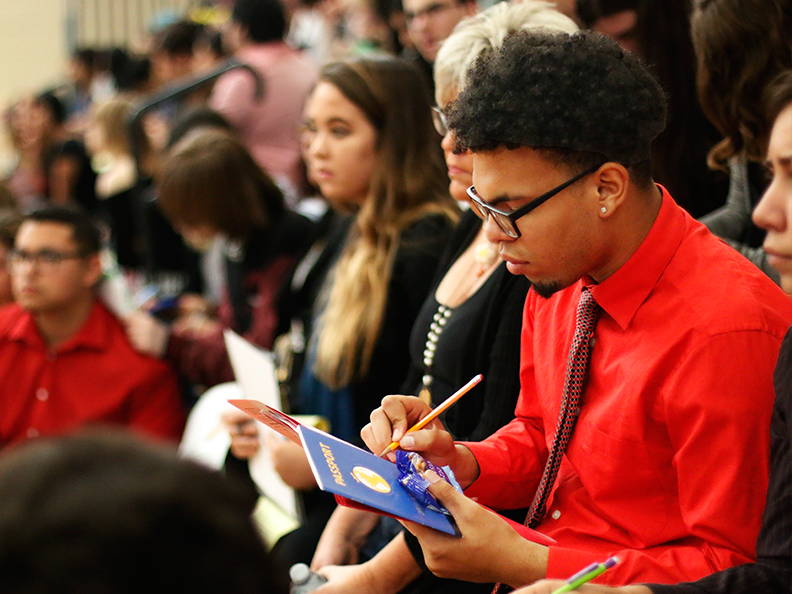 English IV teacher Kim Finnegan also hoped to inspire students to look into other career paths.
"Everyone thinks, 'Oh, I'm gonna do this job,' but they learn about all different jobs, about all different career paths that they can take to get to their dream job," Finnegan said. "It doesn't have to be a straight line, so we wanted them to experience a bunch of different people and open their minds to what's possible."
The English teachers reached out to members of the community and asked them to come speak, according to Hansen.
"In January, I put out a call on the Oviedo Facebook page for community professionals that wanted to speak, and we had a flood of people from there," Finnegan said. "We had close to 30 speakers booked."
Students also took part in classroom activities to help prepare them for the event.
"The students had three days of prep time beforehand," Finnegan said. "We talked about asking open-ended questions that would get them information, we practiced in class with a couple of games, and had them develop questions of their own. They had to prepare those questions on a career day form that they were given on the day of the Career Day."
Some students, however, wanted to do more preparation prior to the event. Senior Bryana Boucci decided to research careers beforehand in hopes that it would help to guide to the information she wanted.
"I found things that I thought were interesting, I was like, 'OK, I hope that those are there,' and if they weren't, then I looked around and saw if there was anything that I liked," Boucci said.
Senior Derek Lopez prepared mentally for the event.
"I didn't know what I was going to get out of the event," Lopez said. "It was going in as, 'Let's see what miracles can happen, let's see what power this has over me and what can come out of it.'"
Optical engineer Rodney Jackson learned about the event from his wife, who is an alumna of Oviedo High School.
"She runs a business in Oviedo," Jackson said. "She said, 'Hey we need some people. So, I had a guy come out from engineering, because I want to give back to kids."
Speaker Chris Flymier, who works at Sea World, got involved to inform students about interesting career options and how to get started in them.
"I am an animal trainer, which is kind of a unique field," Flymier said. "I was excited to talk to students about all of the career options that there are. I think they were just learning that there's a lot out there, there are a lot of ways to make money and what I wanted them to learn is do something that you love and something that makes you happy."
Similar to Flymier, speaker Annalisa Gollob, a civil engineer for the City of Oviedo, was motivated to attend because there is currently a shortage of engineers.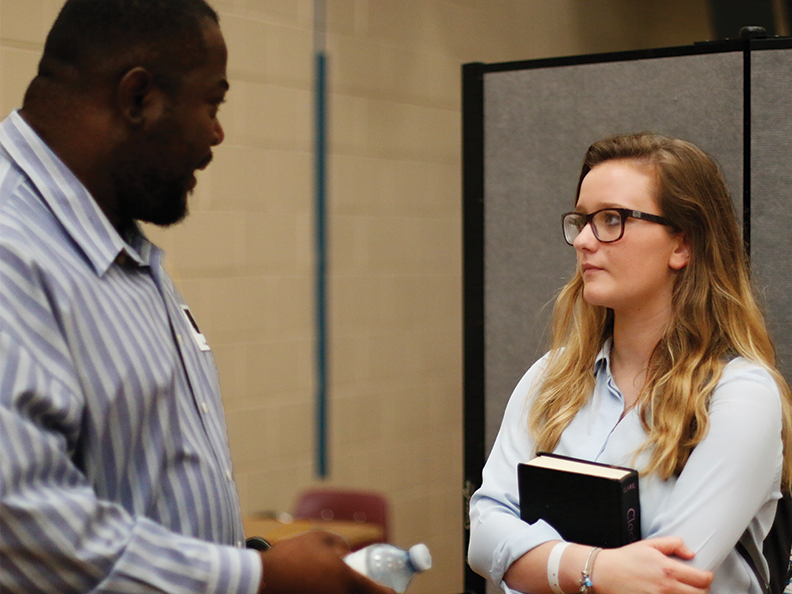 "I wanted to let students know that engineering was an option," Gollob said. "I am all about motivating adolescents."
Jackson saw his role as motivational, as well.
"I wanted to give them a realistic understanding of what the real world is about," Jackson said.  "It's about getting in there working hard and doing what you want in life."
Though her planned major in cosmetology wasn't represented, Boucci still learned useful information.
"I got a better insight on different genres of work that I found interesting and that I could go into," Boucci said.
According to Lopez, the event taught about the difficulties of getting into his desired career in sports management.
"I learned how much sacrifice it takes to prepare yourself for something that you want to succeed in," Lopez said.
Flymier stated that the event was executed well.
"I think it was enlightening," Flymier said. "I could tell by the questions I was getting that people were very interested."
Lopez, however, stated that he wished he had had more information about the speakers beforehand. Other students wanted more time with speakers.
"It was a little on the short side," senior Crysta Booth said. "They could've had a few more speakers and had longer sessions, because it was really cool to be able to interact with these people."
Hansen stated that she wished that there were more careers represented.
"I would've liked more military personnel, more creative careers–arts, music, producing," Hansen said.
According to Finnegan, the overall event was a success.
"Students made contacts, they made connections, they got business cards, they found out something that they didn't know before about a career that they were interested in," Finnegan said.