Heading into the regional finals match the Oviedo girls varsity volleyball team has amassed a record of 21-8. Ranked 27th in the state and 6th in the class. Sporting notable wins against Lake Highland Prep (22-7), Lake Brantley (20-9), Plant (22-3), and Osceola (23-6), Bishop Gorman (29-5), Grafton (19-4), Kellam (18-4), Musselman (32-13-2), Georgetown Day (17-4), and Horizon (17-5) in the regional semi finals, ranked third in the class. Along with being the only team to take a set off of Timber Creek Wolves, in the regular season. The Wolves are 21-8 on the season with all their losses coming in tournaments and are ranked 21st in the state and 7th in their class.
The Lions will be facing off against the 25-4 Viera Hawks in the 6A Class, Region 2 finals. The Hawks have notable wins over Westminster Christian (22-8), Sandy Creek (38-10), Venice (22-6), Winter Park (27-2), Bishop Moore (21-8), Merritt Island (22-6) twice, Barron Collier (24-6), Bishop Kenny (22-7), along with beating 4th ranked, Lake Minneola (15-5) in the regional semi finals.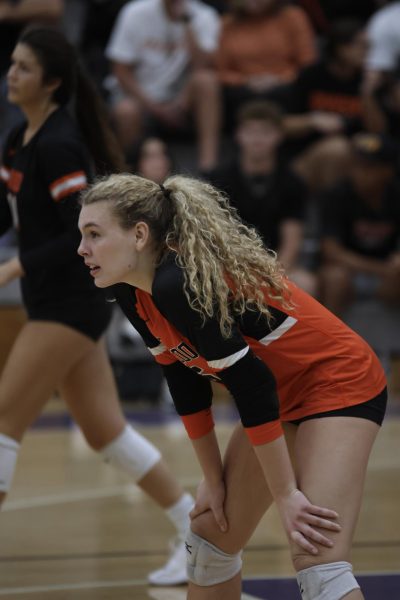 Viera is ranked 8th in the state and 1st in the class. With a rating of 36.36 and a strength rating of 22.7. In comparison Oviedo has a rating of 32.41 but the highest strength of all the teams in the top 6 with 23.9.
The source of this strength comes from the players on the court. Junior Olivia Klimis leads the team with 453 assists along with senior Paige Wisneski close behind with 446 assists. Leading the defense for the Lions is sophomore libero, Avery Stephens, with 462 digs on the season averaging 5.2 per set. Stephens is currently ranked 21st in the state and 3rd in the class. Riley Yarborough and Kylie O'brien lead Oviedo's offense with 272 kills and 225 kills. Yarborough suffered a concussion midway through the season missing 9 games. Despite this she is the focal point of Oviedo's high scoring offense
This Oviedo Lions squad has overcome more adversity this year than most players face in their tenure playing varsity volleyball. Wednesday's match against Viera could mark the end of their season or just another test on their path to a state title.