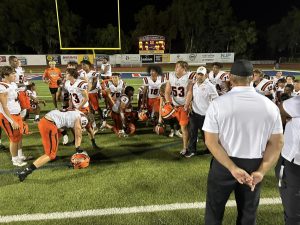 Varsity Football
By Merrick DiCarolis
For the eighth year in a row Oviedo football has won their season opener, besting long time rival Lake Brantley in back to back season by a score of 60-47. The 107 total points scored was more than double the total last season when the Lions won 26-21.
The 60 points put up by the Lions is the most the Lions have scored in a single game in over 10 years.
Captain and Star Quarterback Jackson Latour scored a career record 6 touchdowns including his first ever rushing touchdown. Latour also threw for 302 yards, 165 of them going to senior receiver Marquet Williams who is primed for a breakout year after leading the Lions in Receiving during the 2022 season. 
The Lions went into halftime up 33-7 but Lake Brantley's rugged triple option offense was able to wear down the Lions defense which led to a 42 point half for the Patriots.
The Lions defense struggled against Brantley, surrendering 47 total points. The Lions had one of the best defenses in Florida last season surrendering 15 points a game and forcing 3 shutouts, but  there are 8 new starters on the defensive side of the ball including senior linebacker Jason Cintron who recently transferred from Lake Howell and senior defensive back Alejandro Bello who transferred from Timber Creek.
Lake Brantley suffered major losses on both sides of the ball as 4 Star all American twins Andrew and Michael Harris both graduated and are now playing at Maryland and UCF. Brantley also lost 3 star quarterback and 3 year starter Braxton Woodson who graduated and went on to play at Navy.
Next week the Oviedo Lions face Orange City in their first home game of the young season. Orange City beat Oviedo's cross-town rival Hagerty high by a score of 42-14.
Girls Volleyball
By Hunter Fuehrer
As week one came to a close for the Oviedo girls varsity volleyball team, their strong showing in the preseason wouldn't prepare their opponents for what was to come. Their first game in week one was against Olymia, Titans, at home. Olympia was coming off a strong 21-7 season the year prior, however their season came to an abrupt end in the region quarterfinals where they were upset by lower seed Windermere.
Oviedo took the first set 25-20 in a strong performance from the serving line. However in the second set Olympia's lefty heavy offense took advantage of gaps in the Lions defense ultimately taking the second set 25-18. After the set Oviedo would change their defense to better adjust to the left handed hitters of Olympia. These adjustments led to a dominant win in the third set with a score of 25-10. Heading into the fourth set the Lions were looking to use the same defensive strategy to shut down Olympia's offense. But it would be the Titan's serve receive that would crumple in the fourth, along with yet another strong defensive performance from the Lions which saw Olympia lose 25-18. Oviedo took the match 3-1 to open up their regular season with a bang.
"It felt good being our first win of the regular season," said senior captain Paige Wisneski. "I think our team has high expectations for each other and it was nice to see us put what we do in practice and translate it to the game."
Following the win over Olympia the Lions looked to face off against Lake Highland Prep (LHP), Highlanders, in a non-conference at Lake Highland Prep. LHP was 18-9 last season, however they made it to the state semifinals where they lost to the state runner ups. This game would be the first true test for the Lions to really see how they stacked up against some of the best teams in the state.
"We were excited going into the game," said junior captain Oliva Klimis. "They beat us last year but we were ready and prepared."
Oviedo took the first set 25-22 in a close back and forth affair. In the second we'd see more of the same as the Lions and Highlanders battled for each point. The set would come to a close after the multiple long rallies with the Lions on top in a 27-25 overtime thriller. Looking into the third set it we'd see yet another close set which would test Oviedo's tenacity fighting point by point. In the end the Lions finished the set 25-23, taking the match 3-0 proving they could contend with some of the best teams in the state.
"It was a great feeling knowing we set our mind to something and accomplished it,"  said senior captain Paige Wisneski. "Just using it as motivation and always knowing that everyone wants to beat us."
The Lion's final match of the week saw Oviedo face off against the Seminole, Seminoles, in a non-conference home game. Seminole went 10-14 last season and failed to make it past districts.
"I think the team felt very good, every game we play we get more comfortable with each other helping us win." said senior captain Paige Wisneski.
The first set was dominated by Oviedo in a 25-13 shutout. However, the second set would be more competitive but saw the Lions pull through winning 25-23. Oviedo would seal the sweep with a score of 25-10.
"It felt good winning and keeping our win streak going," said junior captain Oliva Klimis.
Next week the girls face off against Lake Brantley in a non-conference away game before leaving Thursday to compete in the Nike Tournament of Champions in Tampa.
Cross Country
By Riley  Sanderson
This past weekend on Saturday the 26th, the cross country team competed in the 15th Annual Jim Ryun FCA Invitational at Holloway Park in Lakeland. The team got to meet and talk with Jim Ryun- 1968 silver-medalist Olympian, former US representative, and the first high schooler to run a mile in under 4 minutes.
This one-lap course is known for its rolling hills through the woods and it's not uncommon for runners to finish minutes slower than their average 5K times. Despite this, the boys varsity team placed first out of 40 teams, led by sophomore Aiden Aysun in 7th place with a time of 17:07.00 minutes.  Jack Nugent, Colin Aysun, Myles Egerton, and Yaniel Petrovich followed, placing in the top 20 out of 285 runners. 
"I felt pretty good about my performance," said sophomore Colin Aysun, who placed 10th with a time of 17:22.10 minutes. "I think we'll do even better overall at a faster course." 
Despite many of the girls varsity runners being unable to race due to the August 26th SAT, the team managed to pull through and place 8th out of 25 teams. The girls were led by senior Hannah Atwell in 28th place out of 201 runners with a time of 22:21.30. She was followed closely behind by freshman Audrey Wood with a time of 22:39.70. 
On Saturday the 2nd, the team will compete in the Winter Springs Invite at Central Winds Park. Girls varsity will race at 7:30am, boys varsity at 8:00am, and the combined JV race will begin at 8:30am. Most of the current runners on the team have not raced on the Central Winds course before, but are still looking to improve after a challenging Holloway Park course. 
"I think the team is showing a lot of promise," said junior runner Jared Fredell. "My plan for Winter Springs is to stay focused, stay on my feet, and make sure that we win as a team."
Golf
By Gigi Decesare
The Oviedo high school boy's golf team just wrapped up their first week of matches for the 2023 season. Led by a young team, Oviedo faced Trinity Prep (away) and Lake Mary (home) as their first two competitors. Oviedo's top five golfers consisted of two sophomores, two freshmen, and one junior, led by Tyler Adamcyk, a sophomore.
"Some teams you 'know' you should beat and the anxiety is much less," said Coach Howell. "others you know are going to be tough." 
Despite the toughness of the matches the boy's golf team learned from them, and as the first matches of the season, they have a huge opportunity to adjust and improve in the coming weeks.
"[Tuesday's match] was stressful to say the least," said senior Aiden Iverson. "But I was glad to get back out there and start playing with the team."
The team also got the chance to figure out areas where they could try to improve at future practices.
"It all boils down to putting right now," Coach Howell said. "You should have about 14.5 putts per 9 holes. Except for our #1 golfer, no one is near that number right now. If we can fix that- we can be really good this year."
Along with learning from this week, the team had a chance to bond and further connect with new teammates.
"The golfers are a fraternity," Howell said. "They wait around the last green for everyone to finish their rounds. They get along very well and try their best to help their teammates during matches."
This week, Oviedo suffered two losses. A loss to Trinity Prep with a final score of 167-158 and a loss to Lake Mary with a final score of 171-155. Their top golfer Tyler Adamczyk hit 38 against Trinity Prep and 37 against Lake Mary.
"I'd say it was more of a humbling experience," said Iverson. "I came in with a little bit too much confidence and we lost."
It's early in the season for the Oviedo boy's golf team and it's clear they have a ways to go, but the coaches and players know exactly what to fix.
"You learn what your weaknesses are. For each golfer it may be something different," said Howell. "I think that for most of the guys, they will realize that their putting is hurting their scores. We'll keep working on each aspect of the game and hopefully see some drastic score improvements over the next few weeks."
Bowling
By Josh Sabbia
On August 21st the Lions bowling team went head to head against the Lake Howell Silverhawks. After a total of 5 games, the first 2 being singles and the last 3 being baker games, the Lions came out on top. 
The Lions bowling team kept a constant lead against Lake Howell the whole match. Junior Spencer Wainright bowled a 235, Zack Horrobin a 225, and Brendan Raunch scored a 178 for the team. Oviedo would win by over 400+. This was the first game of the season and it was key for the Lions to start the season off with this win.
"I'm really excited," said Wainright. "…it was cool to get a win and show the new people how it feels to be a part of the team."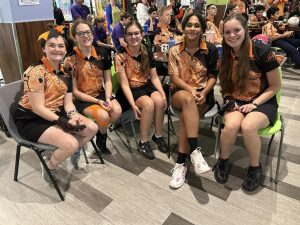 Newer faces on the team is always a good thing so that they can carry on for the future of the bowling team, and can be great attributes to the season. The Lions will go up against Winter Springs  next week and they hope to add another win to their record.