Call Tyler, the Creator if you get lost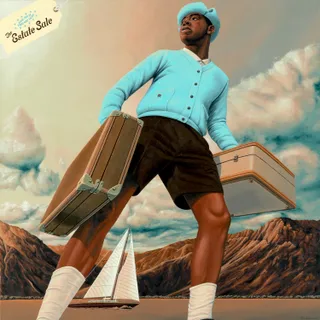 Tyler, the Creator's latest album "CALL ME IF YOU GET LOST: The Estate Sale" is the deluxe version of his previous album, "CALL ME IF YOU GET LOST". With its distinct blend of rap, R&B, and jazz influences, the album is a sonic journey that captivates from start to finish.
One of the standout aspects of the album is Tyler's lyrical prowess. His wordplay is witty, introspective, and often vulnerable, providing a glimpse into his personal struggles and growth as an individual. From grappling with fame and mental health, to providing complex imagery and point of views of unique experiences, Tyler bares his soul in a way that feels authentic and raw.
The production on "CALL ME IF YOU GET LOST: The Estate Sale" is also top-notch. Tyler, known for his keen ear for unconventional beats, delivers once again with a diverse array of instrumentals. The album features lush, soulful melodies, bouncy hip-hop grooves, and jazzy interludes that create a rich and immersive listening experience. Collaborations with notable artists such as A$AP Rocky, YG , and Vince Staples add depth and variety to the album, enhancing its overall sonic palette.
One of the album's standout tracks, "WHARF TALK," featuring A$AP Rocky, is a prime example of Tyler's lyrical prowess and ability to create catchy hooks. The track is an infectious banger that boasts a high-energy beat and showcases Tyler's rapid-fire flow, while A$AP delivers a show-stopping guest verse that leaves a lasting impact.
Beyond the music, "CALL ME IF YOU GET LOST: The Estate Sale" is also accompanied by a visually stunning and cohesive aesthetic. The album artwork, music videos, and promotional materials all tie together to create a cohesive world that complements the album's themes of self-discovery and introspection.
Overall, "CALL ME IF YOU GET LOST: The Estate Sale" is a triumph for Tyler, the Creator. It's a bold and adventurous album that pushes the boundaries of hip-hop and showcases Tyler's growth as an artist. The album is a beautiful blend of his new style or music while still maintaining his roots.  With its captivating lyrics, innovative production, and cohesive aesthetic, this album is a must-listen for fans of Tyler's work and anyone looking for a fresh, genre-defying musical experience.