Meet Matthew McDonald, the back to back Florida State Champion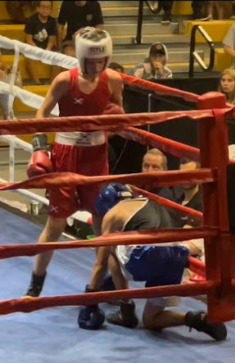 Sitting in the locker room as the announcer declares the main event, freshman Matthew McDonald walked out for his next boxing match. McDonald began combat sports when he was five years old, beginning with jujitsu and wrestling. He ended up falling in love with boxing.
When he turned 10, his parents sent him to train with Pinklon Thomas – a former World Boxing Council (WBC)  heavyweight champion and the first International Boxing Organization (IBO) heavyweight champion. After a year of training, McDonald started fighting in the local amateur circuits. After accumulating an impressive 5-2 record, he went to fight for his state title.
"It was a very big adrenaline rush," McDonald said. "If I blinked, I would have missed the match."
After going the distance within the match, he ended up losing the decision. He then went on to win the next two fights before losing the final fight before his second state tournament.
"I bottled up all the sadness and disappointment and used it in my next fights," McDonald said. 
During his second state title challenge, he went 2-0, picking up the state title in the process. After the big win, he went 6-3, bringing his record to 15-6 and heading into the 2021 Florida State Boxing Championship.
He sat in the locker room with his head in his hands after winning the semi final match. McDonald  went over the game plan and was determined to end with another win.
"I was just trying to stay warm, calm, and collected," he said.
As the music blared, he strode out and stepped into the ring. Little did he know when he stepped out of the ring,  he would become the back-to-back Florida State Champion at 110 pounds.