Tyler, the Creator's "Call Me If You Get Lost" Album Review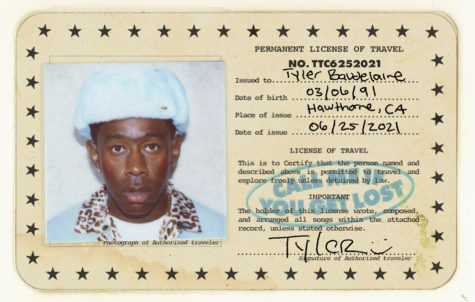 As pretty much everyone knows, Tyler, the Creator's long-awaited new album "Call Me If You Get Lost" dropped June 25, 2021 and did not disappoint. This masterpiece clearly took a lot of time and effort with each song being so uniquely well crafted not only in the lyrics but the melodies, soundtrack, and popular featured artists. I appreciate how each song incorporates the lyrics "Call Me if You Get Lost" which is a simple yet effective touch that ties the songs together.  A few of my honorable mentions from the album include "WUSYANAME", "SWEET/I THOUGHT YOU WANTED TO DANCE", and "JUGGERNAUT". 
My personal favorite song from the release, "WUSYANAME", is the highest charting song off of the album to no surprise, reaching #14 on Billboard's Hot 100. NBA Youngboy's feature on this song was an unexpected hit that everyone seemed to enjoy. Ty Dolla $ign had heavenly background vocals throughout the track which made everything come together in one masterpiece. This is just a feel good, upbeat, fast moving song to jam in the car too.
"SWEET/I THOUGHT YOU WANTED TO DANCE" takes a completely different route than "WUSYANAME" and is a slow jam song perfect for dancing with your love. It has an innocent puppy love feel with repeating how sweet the person is for the first half with Brent Faiyaz's supporting vocals, then interludes into the "I THOUGHT YOU WANTED TO DANCE" part of the song. Fana Hues serves with her angel-like voice which fits perfectly for this song. This half represents a couple separating ways but always still leaving a dance for each other, kind of like a "right person wrong time" situation, but still in love with one another. It is definitely on repeat when thinking of that special someone.
Overall Tyler, The Creator's Call Me If You Get Lost is one of my favorite albums from him so far and I highly recommend it to anyone looking for fresh rap music with a unique touch. It stands out from any other hip-hop album released this year and I am so excited to hear his future projects. He is such an abstract artist and you never know what you'll get from him in his music, but you'll know that it will never disappoint.