Theater students prepare for Mamma Mia show despite uncertainties
This story was originally published in the sixth edition of The Lion's Tale (May 5, 2021).
For the final production from our Oviedo Lions Theater students are putting on a show of Mamma Mia. Despite facing struggles along the way, they are progressing for a performance to remember. 
Shannon Ricks, senior at Oviedo High School said, "mostly in the beginning we rehearsed outside and that was really hard because sometimes it was a lot hotter and it was hard to get anything done because we were all sweaty and we were very lethargic, and if it was raining we couldn't really do much because we were outside."
Not only was the heat affecting students physically, but it was affecting their equipment they were using to rehearse.
Adam Schievelbein, senior at OHS said, "also there [were] sound issues so Mr. Lewis came in and had to bring in a speaker that failed half the time because of the heat. It broke down and a lot of times, we had to go off a little phone speaker or something and just try to do it and it wasn't working. Thankfully we were able to move into the auditorium and it's going a lot smoother now." 
To prepare for the uncertainties to come, they double cast the students for each of the characters, and are all practicing with each other in different ways. Coming back to a new year they did not hesitate to start auditions and rehearsals. 
"It's been kind of tough because, I mean, obviously we don't have everybody and there's some days where we would like to have a lot done but we can't so we have to focus on mainly the ensemble," said Schievelbein.
Ariana Latorre, senior at OHS said, "so if one of the leads is out but we have the other one, they would take their place during rehearsal and if it happens for the show then that person will take over."
Instead of practicing in their class they rehearse after schools so they can have everybody to participate for their roles. When students know they are going to be missing rehearsals they inform each other.
"We all kind of, one way or another, we all have somebody's phone number, so if one of us is going to be absent somebody will text and let Mr. Carter know," said Ricks. "If the person comes back we just kind of tell them all the notes, tell them all what happened and it's not too hard to catch up."
"Also there's the OHS Lion's Theatre page on Instaram and on that story there's posts about notifications, announcements," said Schievelbein.
"And Twitter too," said Latorre.
They are working on their costumes for their first performance. Students have to go out and buy their costumes for what they feel is most like their characters. 
Latorre said, "not yet, some of us have bought ones, we started buying them already and we're supposed to bring them in on our first Saturday which'll be in 2 weeks." Mama Mia is expected to hit our stage from May 6th through the 8th.
"Although this is my first show, I'm excited to be a part of everything and put on a good show. COVID is making everything different but I'm happy to be out there performing. I can't wait for everyone to see it!" said Schievelbein.
Out of all the seniors they have some similar feeling about it being their last performance here at Oviedo. Especially since a lot of time was lost due to COVID-19.
Ricks said, "I am sad about not being able to perform in high school theatre again. I'll miss the family aspect and the traditions that we have. I can't wait to have an amazing show to end on!"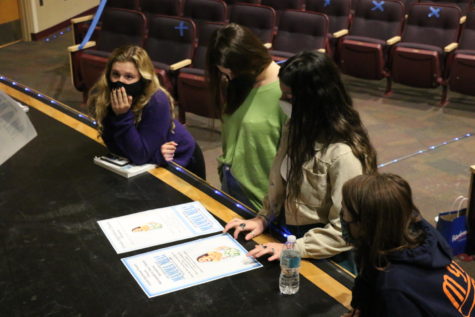 Donate to Oviedo Journalism
Your donation will support the student journalists of Oviedo High School. Your contribution will allow us to purchase equipment and cover our annual website hosting and printing costs. Thank you!