Students reflect on Biden inauguration, storming of Capitol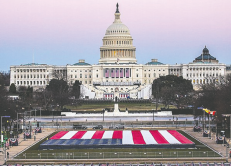 This story was originally published in the fourth edition of The Lion's Tale (February 7, 2021).
As the inauguration of President Joe Biden approached, political tensions were higher than ever. In the weeks leading up to Jan. 20, it seemed that pressures had heightened each day, with thousands of National Guardsmen arriving to secure the nation's capital.
Thanks in part to various claims made by former president Donald Trump and his supporters regarding election fraud, some feel that Biden is not the legitimate president and shouldn't have been sworn in.
Despite federal agencies responsible for election security calling the election the "most secure in American history," the Trump campaign and other Republicans pursued numerous legal challenges attempting to overturn it.
Sophomore Roman Zhdanov, like many others, felt that the former president's response to losing was childish.
"President Trump's reaction is absolutely ridiculous," Zhdanov said. "I do not understand; you're a person who's supposed to be representing the country and you're acting like a toddler. It's just a mess."
However, some supporters of Trump feel that his reaction was understandable. Freshman Bryan Mort finds the former president's actions justified, citing the allegations of fraud.
"He really didn't [lose], because Biden cheated," Mort said.
The belief that the election was fraudulent has become widespread among Trump supporters. Both Trump and prominent congressional Republicans such as Sens. Ted Cruz and Lindsey Graham promoted theories regarding election fraud. The Trump campaign's numerous legal challenges to the election results were roundly defeated.
A Dec. poll by The Washington Post and YouGov found that over 70 percent of Republicans agreed with Trump's contention that he received more votes than Biden. Two weeks before inauguration day, some extremists took this conspiracy to the next level.
On Jan. 6, as Congress was certifying electoral votes for Biden, a mob of Trump supporters stormed the Capitol, causing a lockdown and evacuation, five deaths, damage to the building and a delay of the certification of the election.
Congress continued the certification that night after the building was cleared of rioters, and over 130 arrests have since been made.
Both Democrats and Republicans were outraged by Wednesday's events. 10 House Republicans voted in favor of Trump's Jan. 13 impeachment, making it the most bipartisan impeachment ever. Junior Brialore Campbell considers what happened at the Capitol to be unacceptable.
"I feel like the attempts to undermine democracy are inappropriate and aren't a good reflection of what this country stands for," Campbell said. "[It was] definitely inappropriate and upsetting, and something that should not have been encouraged by the sitting president."
Some students feel certain that Biden's presidency won't be successful.
"Trump should still be president because he did way more than what Biden's gonna do," Mort said.
Similarly, freshman Grady Farris believes that Biden will renege on his promises as president.
"When he was vice president with Obama, he would go back on [what he said] when he was running his election campaign, so that makes me feel like he won't fulfill his promises," Farris said.
Amidst the political tensions, many have stayed hopeful that the Biden administration will take further action to slow the spread of Covid-19, as well as repair the damage caused by the past few weeks' events. Biden has signed multiple executive orders to further the county's response to the pandemic.
"I feel like him and the vice president will do their best to live up to the expectations they set for the American people, and I hope that they are able to build back the democracy that America was founded on," Campbell said.