Biden, Trump descend on key battleground Florida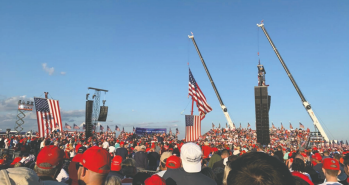 This story was originally published in the second edition of The Lion's Tale (November 6, 2020).
As Florida goes, so goes the nation- at least when it comes to presidential elections. The candidate the state has awarded its electoral votes to has been victorious in all but one race since 1964. With many of the recent contents decided by close margins, including the controversial 2000 election, in which George W. Bush was declared the winner by just 537 votes, Florida will once again be a key state to watch on election night this year.
While both candidates are vying for the Sunshine State's electoral haul, Florida may be especially important for President Donald Trump. Just days before the election, Trump is facing a deficit of between eight and ten points nationwide, and is trailing in nearly every battleground state, including the Rust Belt states, such as Pennsylvania and Michigan, that were crucial to his 2016 victory. Even traditional Republican strongholds are in play, as a recent poll by the New York Times and Siena College showed Trump tied with Democratic challenger Joe Biden in Texas. Thus, a loss of Florida's 29 electoral votes, where the race is relatively close, could spell disaster for the President's campaign.
In need of a boost in the state, Trump has turned to his signature campaign rallies. After a hiatus due to the emergence of the coronavirus pandemic, he resumed holding rallies in late June, and has since held five in Florida, second in number to only Pennsylvania during that period.
Three of those events have taken place in the Central Florida area, as the President seeks to gain support in "purple" counties, those that are closely contested by the two parties each election. Trump's rallies are often rowdy and spirited occasions attended by his most enthusiastic supporters. They typically feature him touting his administration's response to the pandemic and the imminent arrival of a vaccine, as well as numerous attacks against Biden and other Democrats. At his Oct. 12 rally in Sanford, just a week after being hospitalized because of COVID-19, Trump claimed that he was "immune" to the virus and would give "a big fat kiss" to everyone in the crowd.
Senior Justin Richburg attended that rally at Orlando Sanford International Airport and described his experience.
"I met some of the nicest people; everybody was extremely friendly," Richburg said. "The atmosphere was very patriotic, and it was for sure the experience of a lifetime considering this is the most important election this country has faced."
Trump has received criticism for holding large, in-person events in the midst of the pandemic. Social distancing is absent at the rallies and many in the crowd do not wear masks. The President continues to claim that the virus will "disappear" and has made 38 such statements since February, according to CNN. Cases are on the rise again, with the US gaining around 60,000 each day, and several cities have seen spikes in
COVID-19 following Trump rallies. Conversely, former Vice President Biden has sensed that keeping a low profile is often the winning strategy as a frontrunner. Biden, 77, spent much of his time campaigning virtually from the basement of his home in Delaware as he sought to avoid the virus that is especially dangerous for older individuals. Soon after the onset of the pandemic, the Democratic nominee did not make a public appearance for over two months.
"Biden's events are usually small or virtual because he understands the true threat of the coronavirus, unlike the current occupant [of the White House]," said senior Ashton Fields.
Biden did begin holding in-person events after Labor Day, with attendance limited to allow for social distancing. His visits to Florida included multiple stops in the Miami area, where he met with groups like Hatian-American community leaders. Biden also enlisted running mate Kamala Harris and former President Barack Obama to shore up support in the state. While the difference between the candidates' campaign styles is stark, interpretations vary. Some see it as an example of their contrasting approaches to the virus, while, according to Richburg, Trump's ability to draw large crowds is evidence that his campaign has elicited greater enthusiasm than his opponent.