Marching band incorporates social distancing in practice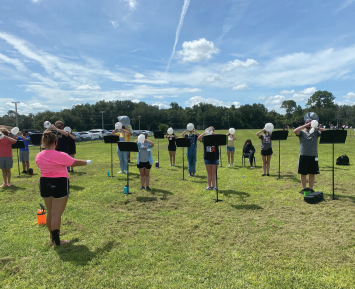 This story was originally published in the first edition of The Lion's Tale (October 6, 2020).
COVID-19 has affected everyone this year. From forcing the cancellation of plans to the implementation of social distancing, everybody has had to adapt to the changes this year has brought. Parties and big family gatherings have been postponed, and businesses have their floors marked so customers can keep six feet of distance from each other.
People now wear masks out in public, and places have to follow CDC guidelines. Oviedo High School is no exception to the rules, as desks are now spread out, and some classrooms even have clear dividers on the desks.
The school's marching band was highly affected by the changes this year. Marching band involves a lot of people and marching out in the field with others. Many changes had to be made in order to keep all of its students safe for the marching season. Although students didn't get to march on the field, they are still practicing by playing outside during class time.
"When we play our instruments we have to be outside and cover the bells of our instruments with plastic bags so that we don't project our air towards others," said senior Vivien Towson, head drum major. The band directors have an important responsibility of making sure everyone is social distancing as well. Inside the band room spots are marked on the floor and the auditorium seats have been labeled too.
"We didn't play for the first two weeks, just so that we could cover everything that would keep us safe," said senior Matthew Borrazzo. "Smaller groups break off during practice so we can maintain social distancing."
Seniors got to have the past three marching seasons run smoothly and normally. The returning sophomores who are veterans this year fortunately got to experience at least one uninterrupted marching season.
"Hopefully marching seasons will be the same as last year in the future," said sophomore Briana Consign. "But we'll be more connected as a family because we got through this troubling time together."
Although the 2020-2021 school year is not what students were expecting, the seniors in band still have to set an example for the underclassmen and incoming students.
"As a senior and the drum major, it's super important that I always stay positive, and try to know the answers to any potential questions," Towson said. "It's hard for the underclassmen to feel sure of themselves if the upperclassmen aren't!"