Senior athletes vie for scholarships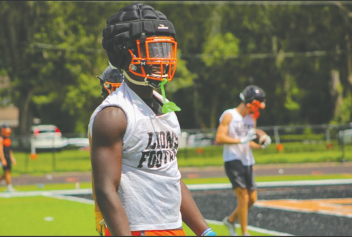 This story was originally published in the first edition of The Lion's Tale (October 6, 2020).
To play any sport at the next level is the dream of a majority of the student-athletes in this current day and age. Student athletes will work and grind day in and day out on the field or court and in the classroom to receive an offer to play at a college or university.  
Gian Flores, a junior catcher on the  Oviedo High School varsity baseball team,  wants to work hard to reach this goal of earning a scholarship to play baseball at an institution.  
"I just enjoy every aspect of baseball.  Training and working out and just grinding is fun for me, and then seeing all of the work I've put into this game show itself when game day comes along is the best part,'' Flores said. "I want to play at the next level because I believe I have the ability to do so and I believe it's the gateway to the next path in my life. Whether my baseball  career continues past college, or If my next  path is through a degree, only God knows." 
Verbally committing to a school brings great honor and pride to the athlete and his or her school. A full ride scholarship often provides paid tuition to further one's education as well as grants the opportunity to have a greater chance for that athlete to play professionally, if they wish.  
Student athletes like Kyleigh Thelen, a  senior varsity girls soccer player, also keep their education in mind when considering playing at the next level. 
"I want to continue playing in college to continue playing the sport I love as well as getting a good education," Thelen said. 
Another student who sees both the importance of education and hard work is Julian VanDeventer. VanDeventer is a senior defenseman for the boys' varsity lacrosse team.  
"If you want to commit to a college or university to play lacrosse it takes years of hard work and dedication; it's no easy task.  It's not only lacrosse you need to focus on to play at the next level; grades are more important than lacrosse itself. If your grades  aren't good enough to at least get into the  school, how do you expect to play lacrosse  there?" VanDeventer said. 
All of these benefits are what student-athletes strive for, but many were faced with adversity and have had to adapt to the COVID-19 virus almost stopping them from achieving this momentous goal. 
"I've had to do virtual showcases, so  I took videos of myself training and sent it into a showcase organization. What I  haven't really been able to do is be seen by college coaches because the NCAA  scout dead period has been pushed back so much due to COVID,'' Flores said.  
Many athletes like Flores have had to find alternate ways to show their talent and ability to play their sport in order to receive an offer. Taking videos of oneself and sending it to showcase organizations or college coaches themselves has become the new norm. The virus has prevented large events such as club and school tournaments and showcases, where athletes would normally be able to have scouts and coaches see them play, from taking place. 
With adversity comes adaptation. And it seems that many of the student-athletes at Oviedo High School have had to adapt and have done it well. With the cancellation of recruiting events like VanDeVenter and Flores mentioned, athletes have had to send video to or contact college coaches and recruiters in hopes of a scholarship. Coming into this year, high school athletes are going to have to work even harder than they have before to be able to play at the next level.