Students weigh in on effects of possible Tik-Tok ban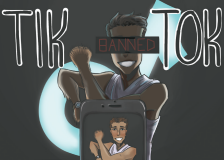 This story was originally published in the first edition of The Lion's Tale (October 6, 2020).
In early August, President Trump issued an executive order to ban the popular video social networking app  TikTok and the messaging app WeChat. 
Prior to Trump's emphasis on the TikTok ban, India banned TikTok permanently due to security threats, along with a number of other Chinese-run apps.  
On August 6, Trump gave the company that owns  TikTok, Byte Dance, 45 days to sell the app to an American owned company, such as Microsoft.  
Trump claims that the app poses a national security threat, asserting that TikTok, run by a Chinese company,  will allow the Chinese Communist party to gain access to  Americans' personal information. 
Trump offered a similar explanation for the WeChat ban,  saying that the app could allow the Chinese government to obtain Americans' private information. The messaging app is used by many Chinese Americans to stay in touch with family and friends in China. 
Some feel that Trump's executive order may be driven by the recent surge of political content on TikTok. In June,  many videos showing footage from Black Lives Matter protests went viral.  
"I don't think the ban is necessary especially [because]  the only time Trump has talked about this was during a pandemic and the BLM movement, " said junior Emma Hennigan.  
Users on the app came up with a viral plan to ruin  Trump's June 20 rally in Tulsa, Oklahoma, by having viewers request online tickets and then fail to show up.  Trump claimed that "almost one million" people requested tickets, but just 6,200 attended the rally.  
Many teenage TikTok users feel that the ban is unnecessary and that the president has more important things to be worried about.  
"It seems like a silly task to take on right now with our country facing such bigger threats with extreme division,  burning cities, and a pandemic not under control, just to name a few internally," said junior Felicia Wilks.  
However, others feel that due to safety concerns, the ban on TikTok is necessary.  
"It sucks because TikTok is awesome and I enjoy watching [the videos], but I think since it is a matter of national security it is important, and I trust the government is making good decisions," said sophomore Byrce Lesser.  
Senior Victor Diaz is one of a few students at Oviedo  High School with a significant following on the app, coming in at around 330,000 followers. 
While the ban could impact him, Diaz says he has other things to worry about aside from TikTok. 
"I still have many other priorities than TikTok such as baseball, football and school. I would still post on other platforms like Instagram and Triller," he explains.  
Triller is an app run by Proxima Media similar to TikTok,  where users can create and upload content. Many creators,  including Diaz, have downloaded the app as a backup in case of the ban.  
Along with other teens, Diaz feels that the ban isn't needed and that it won't ever come into effect.  "There's no need for it and it most likely won't happen,"  Diaz said.  
On September 27, a federal judge granted an injunction against the order that would have removed TikTok from app stores, temporarily blocking it. The Trump administration has approved a preliminary deal that would involve  ByteDance selling a part of its US operations to American companies Walmart and Oracle. Details of the deal have not been finalized and TikTok's future in the US remains unclear.