Athletic Booster Carnival returns to Oviedo this weekend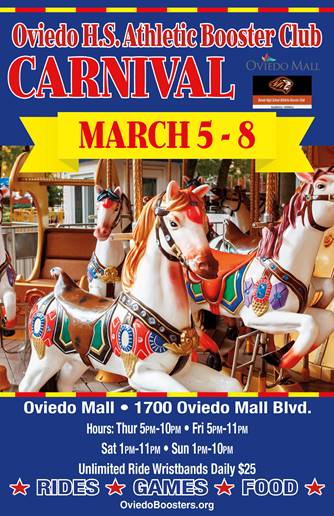 WEB EXCLUSIVE
Every year, the Oviedo High School Athletic Booster Club puts on a large carnival to raise money for the athletic programs. This year is no different, with many sports teams participating in helping to bring the carnival together. 
The fundraiser has been going on since as long as anyone can remember, literally. According to OHS staff that have been working for many years, no one knows when it started. It has always been one of the most popular fundraisers at Oviedo.
 This year the fundraiser will be held at the Oviedo Mall, but it didn't always take place there.
Prior to using the mall as its location, Susan Rodenburg, the principal's secretary, said all the team sports would go out on the football field, and bring their own kiosks.  
"Whether it was funnel cake or candy, all the sports brought their own stores to raise money specifically for them," Rodenburg said. 
All the OHS students would come down and buy things from the kiosks, it was a carnival to look forward to. But, then SCPS regulations changed. 
Rodenburg said that a possible reason for the regulations was due to the after effects. 
"They messed up the field really badly," she said.  
Though staff said it was a  disappointment that the fundraiser was cancelled at OHS, it was announced that it would still continue with a new home at the Oviedo Mall. 
Jennifer Darty, the school athletic director, said that students won't want to miss this year's event. 
"It's going to be a wonderful carnival. Lots of fun, lots of food, rides, [and] games. We hope everybody can make it." 
She added that there is an easy way for Oviedo students to do their part. 
"Come have a good time. Come enjoy the carnival, ride the rides, buy the food," Darty said. "Just enjoy." 
This year's carnival will be held from March 5 to March 8 in the Oviedo Mall parking lot. The event will open from 5-10 p.m. on Thursday, 5-11 p.m. on Friday, 1-11 p.m. on Saturday and 1-10 p.m. on Sunday. Unlimited ride wristbands will be sold for $20 at the door for each day, but students can purchase them for $5 off at both lunches on March 4-5. For more information, students can visit www.oviedoboosters.org.