NJROTC drills precision in competitions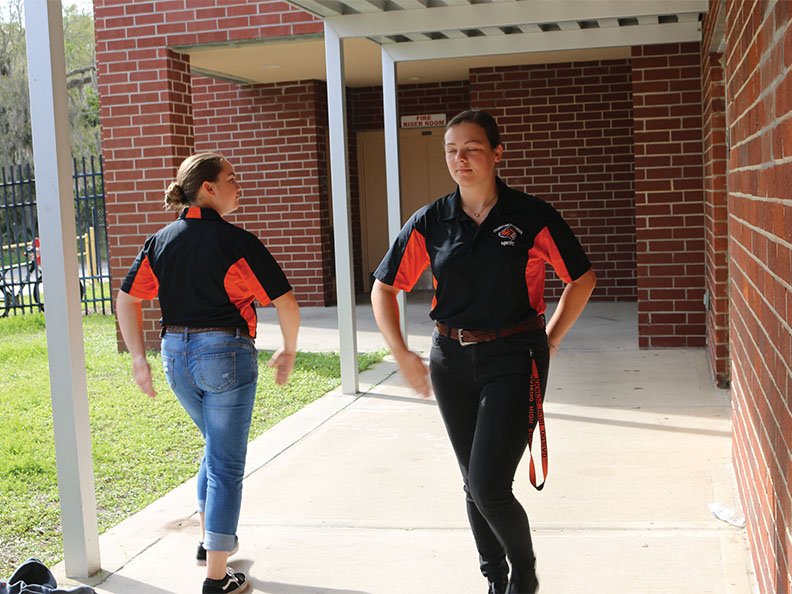 This story was originally published in the fifth edition of The Lion's Tale (March 14, 2019).
Twenty uniformed students stand still in rows. The commander slaps his arms against his legs, and the entire team launches into a precision exhibition filled with slaps, claps, and stomps. 
The drill team is a competitive team for the Navy Junior Reserve Officers Training Corps (NJROTC) whose members come from all grades. 
Senior Emma Blakey has been part of drill team for four years.  
"It is a lot of fun and you make a lot of friends," Blakey said. "You can learn a lot about teamwork, yet most people don't think that you can be involved in something like this."
Even though freshman Mellisa Eck has been on the drill team for only one year, she enjoys the friendships she has made.
"We become closer and become a family as we go on competitions, which are a lot of fun," Eck said. "I feel like I have made a second family out of JROTC."
Master Sergent Contreras, one of the commanders in charge of the drill team, said the team is very committed. 
"They practice four days a week, so about seven hours a week," Contreras said. "The drill team asserts discipline,  inserts instant obedience to orders and builds confidence." 
Junior Cannon Parker has been on the armed drill team for three years. In armed drill, competitors add a dummy rifle to the routine, which they spin and slap in rhythm. 
"Drill is like a brotherhood–we will always talk to each other," Parker said. "Competitions are a lot of fun, they're very action-packed, and even when we are not competing, we are hanging out in the tent and stuff."
According to Blakey, the team must meet strict expectations for each six-to-nine-minute routine.
"Competitions are very intensive due to  national regulation standards," Blakey said. 
Contreras said that these standards influence the creation of each routine.
"There is a certain criteria that we have to cover," Contreras said. "We come up with a routine and, depending on how fast they're learning, we tend to create our routine."
But one routine isn't enough for an entire season.
"We typically change the routine because the judges are different, so it's more enjoyable for us and them," Eck said.
The judges are volunteers from college-level ROTCs, including Navy, Marine, Air Force and Army. 
"The judges look at whether your hands are in the right place, if you slap at the right time," said freshman Aydan Chandler. "It's pretty intense."
Senior John Rose has been on the armed drill team for four years and said the exhibitions are very competitive and that it makes the team want to win. Rose also said that being on the team has taught him discipline and leadership.
"When I have to take charge of the team, it's a big deal," Rose said. "It's very time-consuming, but it's still a lot of fun to compete."