Backstage experience at Lilly Singh's tour exceeds expectations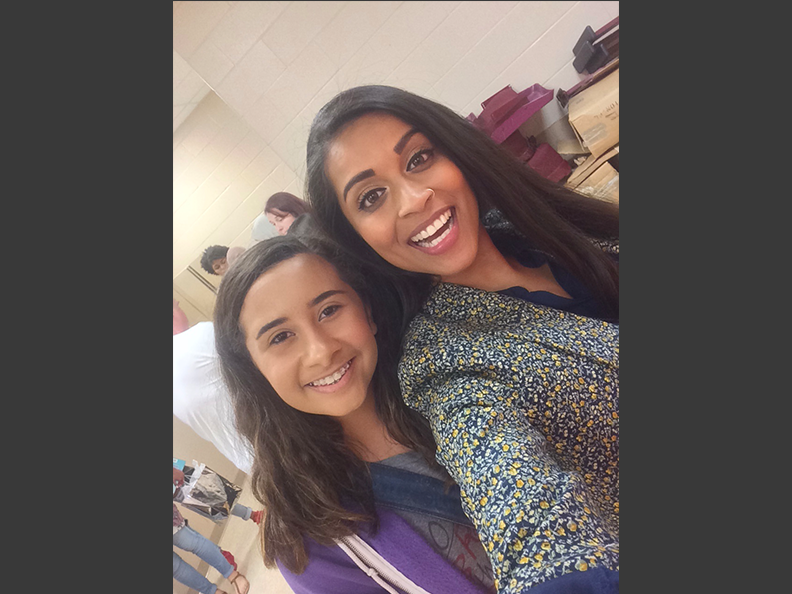 WEB EXCLUSIVE
Check out the review of the book How to Be a Bawse in the second edition of The Lion's Tale (Nov. 3, 2017).
I started the day off by waking up late. I rushed to get ready and threw on some clothes. Rina, my middle school friend, picked me up with her family and drove an hour to Kissimmee. We watched Harry Potter 3 on the way there in the car.

It was 11:00 a.m. when we arrived at the location: a high school. The line was already wrapped multiple times around the building, but we stood at the end anyway. While we were waiting, a girl with a video camera ran by, taking a video for Lilly Singh's video blogs. I waved to the camera and smiled when she ran by, and we continued to wait about 30 minutes before workers at the event approached us with a cart full of Singh's signed books, which were included in the event. The workers handed us our copy and continued on through the line.
Now, there were 10 golden tickets hidden throughout the 600 or so that were distributed.  This ticket allowed the winners to go backstage and hang out with Lilly, as well as get a selfie with her.

I made sure I kept my hopes low when I got my book. I had only found out about the golden ticket experience that morning, so I didn't even check or open the book when I first got it. I was so convinced that I wouldn't get one. Then, Rina's sister pointed to my book and said, "Look at your book!"

I looked down. There, at the top of the book, was a small sliver of space, as if a bookmark was in the book….or something was shoved inside.

I opened it up to the page. There, laying snugly between the pages, was a golden ticket.

I gasped. This was unreal. This wasn't happening. Rina and her family began to congratulate me. The ticket also said that I could bring one guest. I turned to Rina and asked, "Would you like to come with me?" Of course, she said yes.

At around 12:30 p.m. the doors opened and we went inside. That was when I got really excited and felt like this was actually happening. We got good seats in the left section of the auditorium. On stage were five giant red letters: B-A-W-S-E.

After a malfunctioning introduction video, Lilly Singh came out on stage. She explained that even when things don't work out, like the video, you gotta just push on and continue forward. So, she began the show! Despite arriving in Orlando only hours before, she was filled with energy and inspiration. She was hustling around the country to as many places as she could to showcase her newest achievement. She was probably exhausted and drained from the amount of traveling, but she still had that "can-do" attitude for which her fans love her.
I feel like this was a fantastic example of what the message from her book was really about: being a Bawse.
In her show, she talked what a Bawse is and does, the layout of the book and some important steps in becoming a Bawse. Overall, her show was amazing!
After that, it was time for anyone with a golden ticket to go and hang out with her backstage. I brought along Rina and followed one of the event workers backstage. I saw a lot of people I recognized from her online videos around the halls. We waited a bit in Lilly's dressing room, and then she came in and greeted all of the golden ticket winners. We formed a semicircle around her and she asked us what our favorite part of the show was. I raised my hand and said, "I like how you ended the show on being kind to others because that's really important to me." She agreed with me.

Then we got to individually take a selfie with her. When it was my turn, she asked how I was doing as we hugged. I said, "Good! How are you?" And I think she said, "Good!" Then, since I had my phone ready, I gave it to her and asked her to take the picture (cause my hands were shaking and didn't want the picture coming out blurry) and she was like, "Oh, you want me to take the picture? Okay!" And she took my phone and tilted it and took a picture. I said thank you and then, after everyone else was done, we took a big group picture.

After that, we went back onstage to get professional pictures done. They had a nice event backdrop and when I went up, Lilly gave me another hug. I told her I loved her videos and she said, "Awww thank you!"  and asked my name. Then we took the picture and I walked off, saying thank you a million times over.

After that, Rina and I went home. We were all star-struck at what had happened. The next day, Rina and I watched Lilly's video blog and picked out where we stood in the line, before the presentation, when that girl with the camera ran by. I was ecstatic that I was in a video that over 171,000 people watched–even if it was just for a second!
It was such a great experience to meet Lilly in person and receive a signed copy of her book, which I will cherish forever. After reading a good amount of it, I can surely say that it's a book everyone should read. I will never forget the day I met internet star Lilly Singh!