Recipe: Strawberry Lemon Scones
Saadhana's Seasonal Bites
Hang on for a minute...we're trying to find some more stories you might like.
WEB EXCLUSIVE
It's official: April is upon us. Ninety-degree weather will strike; rain storms that cause obscene amounts of humidity will return.
But all half-jokes aside, April is one of the busiest months for nearly everyone. Various exams will rain down on high schoolers, from the FSA to AP exams. The infamous tax day is on April 14, which causes stress on many students, as well as a majority of our nation. Not to mention spring cleaning–which I think everyone pretends to do.
With this month being such a whirlwind of excitement, I thought this was the perfect time to bake an easy sweet to treat ourselves. I think we've earned it.
Light, flaky and buttery-without-any-butter, these strawberry lemon scones are great for a sweet afternoon pick-me-up, a refreshing dessert, or–dare I say–an amazing breakfast. You could even share these with friends and family, if you're generous. In fact, these scones could be the star of the table at Easter brunch.
Plus, these treats are definitely seasonal, with bursts of strawberry peppered throughout the delicately puffy pastry. Strawberries are in peak season right now, meaning they'll be sweeter, juicier, and riper than if you bought them at another time of the year. In fact, strawberries are probably in abundance at local farm's picking sites and farmer's markets, as well as local grocery stores.
This scone also uses a lemon glaze, which kicks the whole dessert up a notch. It provides a tangy-sweet flavor that perfectly complements and cuts through the fruity sugars in the strawberries. Plus, it's another way to use up any lemons still kicking around from the citrus season a few months ago.
That being said, with all the hullabaloo of April I went over earlier, most people have no time to bake. In fact, many people miss out on the joy of spring baking because of their busy schedules.
Yet this scone can be made in the time it takes to preheat your oven. It's one of those dump-all-the-ingredients-in-a-bowl-and-plop-into-the-oven type of recipes. It's not more complicated than it needs to be, which makes it perfect for such a hectic time.
So make yourself (or some friends, if you're generous) some strawberry lemon scones this month. You'll be raking in the fruits of the season and your work–plus favors, if you share.
Strawberry Lemon Scones
INGREDIENTS:
Scones:
2 cups almond flour

1/2 tsp baking soda

1 egg

2 Tbsp egg whites

2 Tbsp honey

1 tsp lemon juice

1/2 tsp salt

3/4 cup strawberries
Glaze:
1 lemon juice and zest

3-4 Tbsp milk

1.5 cup powdered sugar, sifted

1 pinch of salt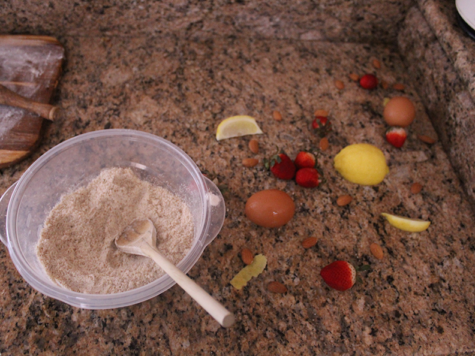 DIRECTIONS:
Preheat oven to 350F.
Combine all ingredients except for berries in a bowl. Mix until well combined.
Stir in berries (I found my hands to be the best tools for mixing this!)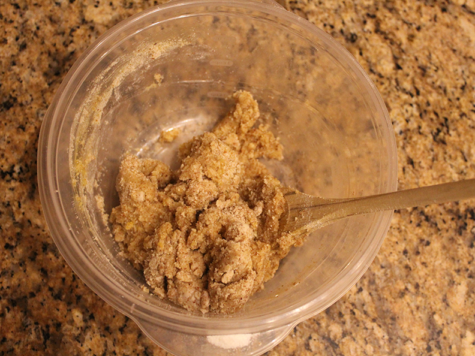 Transfer dough to a floured surface and mold into square that's about 7×7.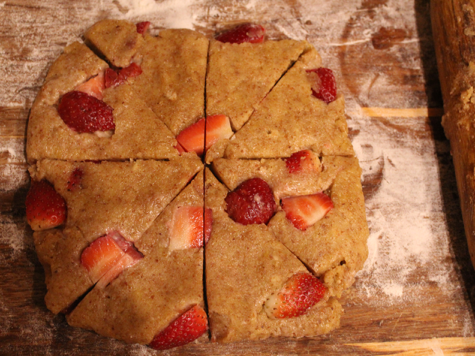 Cut square into 4ths so you have 4 squares. Cut each of those squares diagonally in half so you have 8 right angle triangles.
Transfer to a baking sheet lined with parchment paper.
Bake 11–15 minutes, until they begin to brown on top and aren't mushy.
While they bake, make the lemon glaze. Combine the powdered sugar, lemon juice, lemon zest, milk, and salt in a small bowl, and stir to make smooth.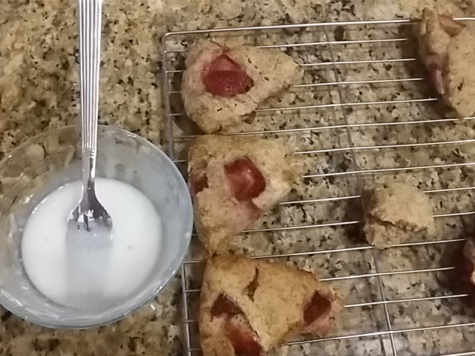 Drizzle the lemon glaze over the baked scones while they are still warm.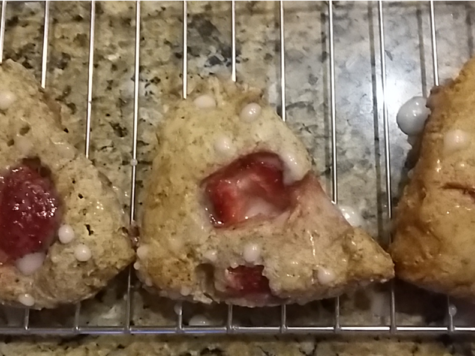 Devour the fruits of your minimal effort!