Girls' soccer state title fueled by near-defeat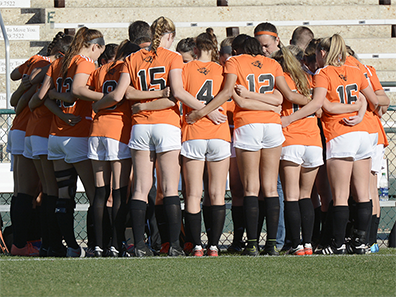 WEB EXCLUSIVE
The Oviedo girls' soccer team (22-0-1) reached new heights, winning the 5A state championship 3-1 over Boca Raton (25-1-0). Even as the team achieved their second consecutive title, their third championship in five years and the program's first undefeated season, the Lady Lions' unblemished season was not without its challenges.
The team, which only fielded six seniors, relied on underclassmen to complement their upperclassmen's talents. Freshman Jade Barkett recalls the struggles of having a team filled with new faces.
"At the beginning of the season we were separate, we didn't really know each other," Barkett said.
Entering their game against Hagerty High School at 11-0, Oviedo nearly faltered, ending the game in a 1-1 draw despite having beat them 3-1 earlier in the season. This near-defeat showed senior Erin Mikalsen that talent alone wouldn't be enough to achieve their goal.
"I was really upset because they aren't that strong of a team and we just didn't play our best," Mikalsen said. "It really put in perspective that anything can happen, and that if we lost, it would have ruined our record. That fear made everybody push harder and take every team seriously."
With this newfound dedication and the team's constant bonding, the Lady Lions hit their stride. Following the draw, they won their next six games by a combined score of 43-2, averaging just over seven goals a game.
Barkett attributes their successes to the bonds they built off the field.
"Through team meals and team bonding, we became closer," Barkett said. "We could trust each other so that if we passed a ball somewhere, we would know someone would be there to get it."
As the team continued their dominance through the season and the playoffs, they used their motivation and teamwork to clinch their not-so-elusive title in a game where they dominated Boca Raton from the beginning.
"
It really put in perspective that anything can happen."
— Senior Erin Mikalsen
Mikalsen reflected on how she will remember her senior year.
"I was just really excited that I could end my senior season with a win," Mikalsen said. "Being able to say that I have two rings is pretty cool, but being able to say that I went undefeated is probably the most memorable thing about this year."
Even with her departure to East Carolina, where she will continue to play left-back, and the departure of the other seniors, Mikalsen still sees a bright future for the program.
"I think next year's team will be pretty strong," Mikalsen said. "They'll probably get up to the state level again. I'm not sure who their opponent would be, but they will have a very good chance to win."
Donate to Oviedo Journalism
Your donation will support the student journalists of Oviedo High School. Your contribution will allow us to purchase equipment and cover our annual website hosting costs.