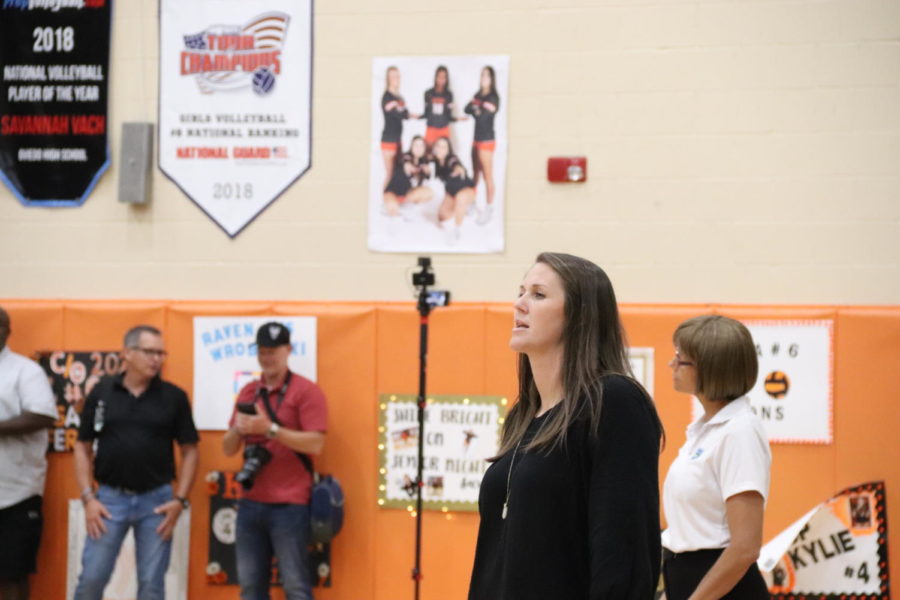 Benjamin Langevin
Jennifer Darty has been the athletic director at OHS for the past five years, and in that time she has made a significant mark by overseeing the school's 32 athletic programs. Her role consists of many responsibilities including scheduling, checking athlete eligibility, and managing coaches all while making sure the school is following Florida High School Athletic Association (FHSAA) rules. 
This year, Oviedo athletics have gone through several changes in terms of repercussions from the COVID-19 pandemic. For example, the mask mandates have been lifted and sports teams have opportunities to have longer seasons. 
"The FHSAA and Seminole County did a nice job of setting up guidelines for a safe return to athletic activities to get us to the point we are at now," said Darty. "I've loved seeing our students back in attendance at our athletic events supporting their peers."
Along with the consequences of COVID-19, Darty has also had to face struggles that come with being the director of such a large athletic program. 
"As an athletic director, there are multiple challenges that can arise daily whether it be from a compliance standpoint, scheduling conflict, sportsmanship issue, or difference of opinions," said Darty. "I think in any job there are challenges that arise and with each challenge, there is an opportunity to learn, grow, and improve in what we are doing."
Looking back at the 2021 Fall and Winter season, OHS athletics has been defined by many district, regional, conference, and state championship appearances. Across the variety of sports programs at Oviedo, teams have competed in four district championships and two conference championships.
 An Oviedo student athlete has also been named to the FHSAA Florida Dairy Farmers Academic All-State Team for excelling in academics and athletics with a scholarship. In swimming and diving alone, there have been two individual state champions as well as a relay state champion. 
According to Darty, the senior athletes are what make Oviedo's athletic success possible. "The Class of 2022 is very talented and have proven to be great leaders within our athletic programs," said Darty. 
The 25 student athletes who have committed to play collegiate sports at the next level consist of six volleyball players, five baseball players, four soccer players, four swimmers, two lacrosse players, two football players, a softball player, and a rifle team member. "We are so proud of what they have done here at Oviedo High School but can't wait to watch them succeed at the next level," said Darty, "I hope that we can produce champions in their sport and in the classroom."
As Oviedo is nearing the end of its Spring athletic season, the athletic department plans to end the year right by celebrating all of the student athletes' academic and athletic work. "My goals for the remainder of the 2021-2022 school year would be to have our spring sports finish strong athletically and academically," said Darty. "It is always a goal for OHS to finish at the top of the Seminole Athletic Conference standings, FHSAA All-Sport standings, and FHSAA All-Academic standings."