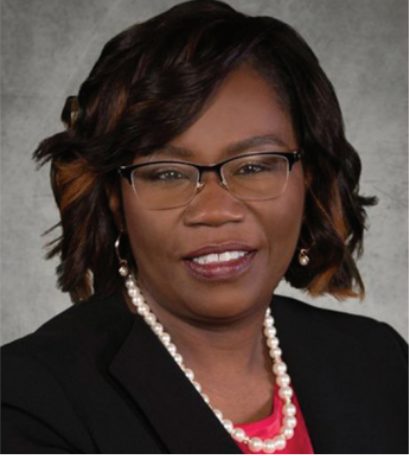 SCPS
This story was originally published in the fifth edition of The Lion's Tale (March 26, 2021).
The Seminole County School Board has named in-house attorney Serita Beamon the district's next superintendent. Beamon, who graduated from Lake Mary High School and has two children in county schools, has worked in the district's legal department since 2004. She played a key role in the district achieving unitary status in 2006, meaning it had sufficiently remedied the effects of past segregation.
The departing head of Seminole County Public Schools, Superintendent Walt Griffin, announced his retirement in September, citing a desire to spend more time with family. Griffin, 61, worked in education for 40 years, including 37 in Seminole County and nine in his current position.
The board originally chose Lake County educator Chad Farnsworth over Beamon to lead the district in a 3-2 vote at a Feb. 9 meeting, citing Beamon's lack of experience in the classroom. Farnsworth, currently the assistant superintendent over human resources in Lake, also served as superintendent, administrator, and teacher in Bradford County in North Florida.
However, in an unusual move, the board voted to rescind its decision two weeks later after member Tina Calderone said she felt the board had not had enough discussion evaluating the two candidates before voting. At that Feb. 23 meeting, school employees and members of the public, including many from the Sanford community, spoke in support of Beamon, who would be the first African-American woman to head Seminole County Public Schools (SCPS).
Commenters said that her experience in the A-rated, 67,000 student Seminole school district made her a better choice than Farnsworth, who spent much of his career in C-rated, 4,000 student Bradford school district.
"To me, the message that you sent two weeks ago was that mediocre was okay," said Barbara Kirby-Bentley, who has worked throughout SCPS for over 50 years. "I respect each and every one of you, but last week I was so angry."
The board met once again on March 1 and confirmed Beamon as its pick for superintendent in a 3-2 vote, with Calderone joining Karen Almond and Kristina Krause to reach a majority.
This decision drew heavy criticism, this time largely from parents angry the board had reneged on its selection of Farnsworth. Some also suggested that Beamon's decision to resign her attorney position when she did not initially get the job reflected poorly on her.
"I believe Mrs. Beamon left a very large blemish on her career when she resigned in frustration and disappointment," said one woman.
Commenters on Facebook also expressed their disapproval of the School Board's decision.
"As a teacher and parent in Seminole County, I am completely embarrassed on how this played out," wrote Nicole Knapp.
Beamon released a statement following her selection.
"I look forward to working with our amazing School Board, teachers, district leaders, principals, employees, students, and the entire Seminole County community to ensure a world-class equitable education for all students," Beamon said.
The board approved Beamon's contract in a 4-1 vote at a meeting on March 23. This came after a judge refused to issue a temporary injunction against the approval of the contract. A Seminole County parent had filed a lawsuit alleging the board violated its own rules when the offer to Farnswoth was rescinded.