Hidden Gems of Netflix
This story was originally published in the first edition of The Lion's Tale (October 6, 2020).
Netflix has shown us many wonderful, stunning and engaging shows throughout the years, allowing us to revisit childhood favorites such as Avatar: The Last Airbender, while also introducing us to the rich worlds of popular hits such as Stranger Things and The Umbrella Academy. But with all treasures, come the hidden gems, the lesser known movies and shows that hold some unknown or undiscovered beauty. The following shows and movies are such examples, from the grim to the comedic, the dystopian to the supernatural, and the 'small town', to the 'coming of age'. There's at least one thing here for everybody, all it takes is some snacks, interest, and the freetime for some binge watching.
– The Platform (2019) – Thriller/Horror
Taking place in an artificially-lit, brutalistic prison hundreds of rooms high, with a single platform, adorned with a carefully-crafted feast, descending down the floors, we follow the new inmate Goreng, into this nightmare as he is introduced to the grisly horrors and suffocating concrete of this detention center known simply as "The Hole". Forcibly teamed up with his cellmate, Trimagasi, a deranged man bent and molded by the rules of The Hole, Goreng begins to also fold under the weight of the vertical prison, partaking in the greedy hoarding of food as the platform descends every day.
– The Ritual (2017) – Horror/Mystery
Six months after their friend's death, four men—Phil, Dom, Hutch, and Luke—go on a hike through Sweden in their late friend Rob's memory. Cutting through a forest to save some time, they soon find themselves entangled inside effigy-riddled woods marked by strange symbols and odd memorials. Pursued by an unseen creature, the group is slowly tormented and picked off one by one, Luke feeling the brunt of the nightmarish abuse with visions of Rob's death, one he could have prevented and remains haunted to till this day. Desperate to survive and escape the beast, those who remain uncover the hidden underbelly of the forest, discovering that their pursuer isn't your normal 'monster in the woods'.
– The Old Guard (2020) – Action/Fantasy
Following a group of centuries-old warriors with regenerative abilities known simply as Immortals: Andy, Booker, Joe, and Nicky are hired by a former CIA operative named Copley to rescue a group of kidnapped children in South Sudan. They are ambushed and killed during the job however, and after healing, realize this mission was a set up. They team up with another Immortal, Nile, and search for Copley while also trying to uncover the reason behind the ambush. Chased by the threat of spontaneous mortality, the team begins to shift and wane, losing the hope that drove them all of these centuries in the process.
– Locke & Key (2020-) – Drama/Fantasy
Based off the comic book of the same name, the show proceeds after the murder of Rendell Locke at the hands of one of his former students Sam Lesser. His wife, Nina, and kids, Tyler, Kinsley, and Bode, move back to their late father's family home in Massachusetts, shortly after discovering a series of magical keys, all of which having some unique power tied to them, such has being able to shapeshift, turn into a ghost, travel into your own mind, and teleport anywhere. Bode meets a mysterious but demonic entity known as Dodge inside a well near the house, being tricked into setting it free. The three team up in order to stop the being, all while uncovering the truth behind some town mysteries, and how it all comes back to their father and his friends: The Keepers of the Keys.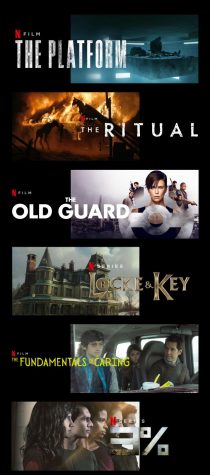 -The Fundamentals of Caring (2016) – Comedy/Drama
Following an out-of-work writer named Ben, he takes up a six- week course to become a registered caregiver in order to avoid his estranged wife and their upcoming divorce. Ben is tasked with taking care of a bank office manager's sexually frustrated teenage son, Trevor, who has Duchenne Muscular Dystrophy. Setting off for a road trip to see the world's deepest pit, along with also going to find Trevor's father, the two get tagged along by a hitchhiker named Dot and a pregnant woman named Peaches. The group continue their journey, Trevor falling for Dot as Ben deals with his personal issues, growing fond of the boy as they get closer and closer to Salt Lake City.
– 3% (2016-2020) – Science Fiction/Drama
Taking place in the distant future, most of the world's population lives in the poverty-stricken 'Inland', only a small minority of elite people selected to live beyond the slums and ruins in a virtual paradise known as 'the Offshore'. Every year, 20-year olds go through 'The Process' of being selected, the majority failing and being eliminated while those who do succeed, the 3 percent, get to enjoy the plentiful and rich world outside. The show follows a series of characters: Michele, a just and cunning woman whose brother never returned from testing, Fernando, a wheelchair-user bent on passing The Process and getting to live the rest of his life in the Offshore, Rafael, an egocentric jerk willing to cheat to get outside, Joana, an orphan with little interest towards The Process and the Offshore, and Marco, the next in a long line of people known to always pass the test, awaiting to join the rest of his family outside.
– Atypical (2017-) – Comedy/Drama
As Sam Gardner, an 18-year old with autism, announces his endeavor to start dating girls, he takes himself and his family on a journey of self discovery as his father, Doug, begins to connect with him more, his mother, Elsa, deals with finding herself now that she no longer needs to be his sole guardian, and his sister Casey, who is offered a scholarship to a prestigious but distant high school. Sam's father helps him with dating advice, Casey struggles with her boyfriend, and Elsa begins to have an affair with a bartender she met during a night out with friends. Trying to handle the changes going on in their lives, they all begin to question what it really means to be normal, a question that comes back down to Sam himself, and the family he, in a way, created.
– I Am Not Okay With This (2020) – Comedy/Drama
Frustrated at the unclosed baggage she has with her father's suicide, Syndey Novak begins to struggle with her late teenager life, reluctantly agreeing to hang out with her neighbor Stanley and channel her anger through a diary. Beginning to develop feelings for both Stan and her friend Dina, Sydney starts to uncover her telekinetic powers, which Stan helps her control and manage, all while being watched by a mysterious figure her therapist writes off as "grief hallucinations". Through fights with her mom on the nature of her dad and issues with Dina's boyfriend Brad, Sydney begins to disconnect herself from everyone and everything, realizing just how scared of the world she is, a world that should really be scared of her.
– The Half Of It (2020) – Comedy/Drama
Ellie Chu, tasked with writing love letters to her crush, Aster, for a boy named Paul, starts to develop relationships with both fellow students, bonding with Aster over their shared interests of art and literature, and bonding with Paul through their familiar struggles. Paul fails to hold up his end of the relationship with Aster, Ellie doing the heavy lifting through texts and letters, while also hanging out with her on the side, unfolding many of her personal struggles while falling for her more and more. Caught in a multi-sided love triangle with Aster and Paul, Ellie struggles with maintaining the relationships she has built up while also going back and forth on leaving her town to go to college.
– The Politician (2019-) – Comedy/Drama
Set on his goal of becoming President of the United States, Payton Hobart runs for student body president at his high school, teaming up with his friends McAfee, James, and Alice to go against fellow opponent and friend, River Barkley. Treating the race as if his life depends on it, Payton confronts River but is rocked by his sudden suicide, left devistated at the loss of his friend while now being forced to run against River's former girlfriend, Astrid. Announcing his vice president candidate, cancer patient Infinity Jackson, the team begins to gain traction in the polls while also dealing with the possibility of Infinity's 'rare cancer' possibly being fake, Payton starting to see his life-long dream slowly turn into a nightmare.
– Project Power (2020) – Action/Fantasy
Set in a near future New Orleans, a NOPD cop named Frank and a Major in Delta Force named Art team up with a street-smart dealer and aspiring rap artist Robin to locate and confront a 'Power' distributor named Biggie. 'Power' is a type of drug used to give someone superpowers for up to five minutes and is taking a rise in New Orleans, which the group discovers is the testing grounds for a private defense contractor named Teleios, monitoring test subjects on the drug. Art, Frank and Robin further their investigation, leading them around superpower-riddled New Orleans, racing to find Art's daughter Tracy before time runs out.
– Trinkets (2019-2020) – Teen Drama
Trying to deal with her mother's death, Elodie Davis picks up a skill of stealing, her only vice, but gets caught and is sent to deal with her habits at a Shoplifters Anonymous, where she discovers fellow classmates Moe and Tabitha are also members of. The three girls slowly start a secret friendship built on their shared interest of stealing things, gradually revealing to each other the struggles of their lives, growing closer with every meeting. Trying to adjust with living with her father and his new family, Elodie hones her kleptomaniac skills a bit more, going with life as much as she can without finding herself in trouble, or at least getting caught in it.
Leave a Comment